LABOR MAY HAVE retained Griffith, but the result is in fact a triumph for the federal Coalition and Tony Abbott; for Bill Shorten, a narrow win in a seat that should have swung heavily to the ALP is a slap in the face, and casts doubt on "momentum" Labor claims to have generated. For Abbott and the Liberals, despite failing to snare the seat, the outcome vindicates the new government and its agenda of tough action to restore the country's finances.
The only thing missing for Tony Abbott, at the end of the Griffith by-election campaign, is the desired gain of another seat.
Beyond that, the result in Kevin Rudd's old electorate is almost a perfect one for the Prime Minister and his government: widely expected to lose, and lose badly, the Liberal Party and its candidate Bill Glasson have achieved a further swing against the ALP of 0.7% after preferences against a backdrop of tepid opinion polling for the Coalition and a Labor Party purporting to be resurgent nationally.
Shorten — and new Labor MP Terri Butler — can be thankful to have retained Griffith, vacated by Rudd following his election loss last September. Even so, this is where the good news for Shorten and the ALP begins and ends, notwithstanding the fact Labor has retained the seat.
Griffith is an electorate that for decades has traditionally been marginal, albeit with a distinct, inherent "Labor lean" that has probably become more pronounced as redistributions and demographic changes have continued to shape it; indeed, 2013 was the first "big win" election* for the Liberal Party at which it failed to win the seat since 1977, and just the second at which it failed to win it since Griffith was created in 1934.
That may have been attributable to the political advantage to Labor of having the incumbent Prime Minister as its sitting MP; even so, I expected Labor to not just win this by-election, but to do so with a swing toward it: an ALP victory that incorporated a pro-Labor swing of around 3-4% after preferences is something I would have regarded as a relatively neutral result that both sides could have rightly expressed as a "win."
Whilst Glasson — an excellent candidate, to be sure — will be disappointed, Abbott surely could not be more delighted with the result.
The story of this by-election is a continued movement away from Labor in what it regards as one of its core Queensland electorates five months after a shattering election defeat and in the midst of what it has trumpeted as a national collapse of support for the Liberal Party in the face of job losses and looming tough love on the economic management front.
The bad news for Labor begins with its primary vote; even though the best figures (at time of writing) are AEC numbers that will change slightly when absent and pre-poll votes are added later, Labor has nonetheless suffered a further swing away from it of 1.4%: hardly evidence of a Labor resurgence on the most fundamental measure.
The Liberal Party, by contrast, secured an almost identical movement toward it on primary votes, and if there was any kind of revolt against the government — especially in the context of a marginal seat by-election — its primary vote tally would be the first thing hit. In fact, the 43.57% polled by Glasson is less than a quarter of a percentage point below the level achieved by Graeme McDougall to win the seat against Rudd in 1996.
A swing to the Liberal Party after preferences of 0.7% now leaves Labor with a margin of 2.3% in Griffith.
The Liberals can hardly be said to have underperformed in Griffith: the aggregate movement against Labor in the seat across the 2013 and 2014 results has been almost double the average national swing against Labor.
This result reflects appallingly on the so-called "leadership" of Bill Shorten; it's fair to say he threw everything into the Griffith by-election in a quest to heap early humiliation on Abbott, and far from being crushed, the Liberal Party emerges from this contest in robust shape.
Shorten has run hard on "jobs" and "cuts:" job losses resulting from companies crippled by union-negotiated enterprise bargaining agreements either shutting down operations and sacking staff or threatening to do so in the face of a refusal by the Abbott government to throw government money at them to bail them out.
And cuts — swingeing, widespread cuts to recurrent government expenditure to be announced in the May budget — being made for the sole purpose of redressing the almost criminally incompetent damage inflicted on the budget by the Labor government so recently thrown from office.
There is a warning here, both to Shorten and others of his ilk who would emulate his tactics: don't treat voters as fools; Abbott and his Treasurer Joe Hockey weren't elected to continue the Labor tradition of doling out endless billions to those earmarked by the ALP as deserving cases; they were elected to clean the entire mess up once and for all.
The Liberal Party has now won a state election (WA), a federal election (last year) and now this by-election where the "Abbott the slasher" theme was so enthusiastically deployed by the ALP. It hasn't worked so far, and this result in Griffith strongly suggests it won't work as Abbott and Hockey go about their business of cleaning up Labor's mess.
And while we're talking about the "cuts" theme, stunts like this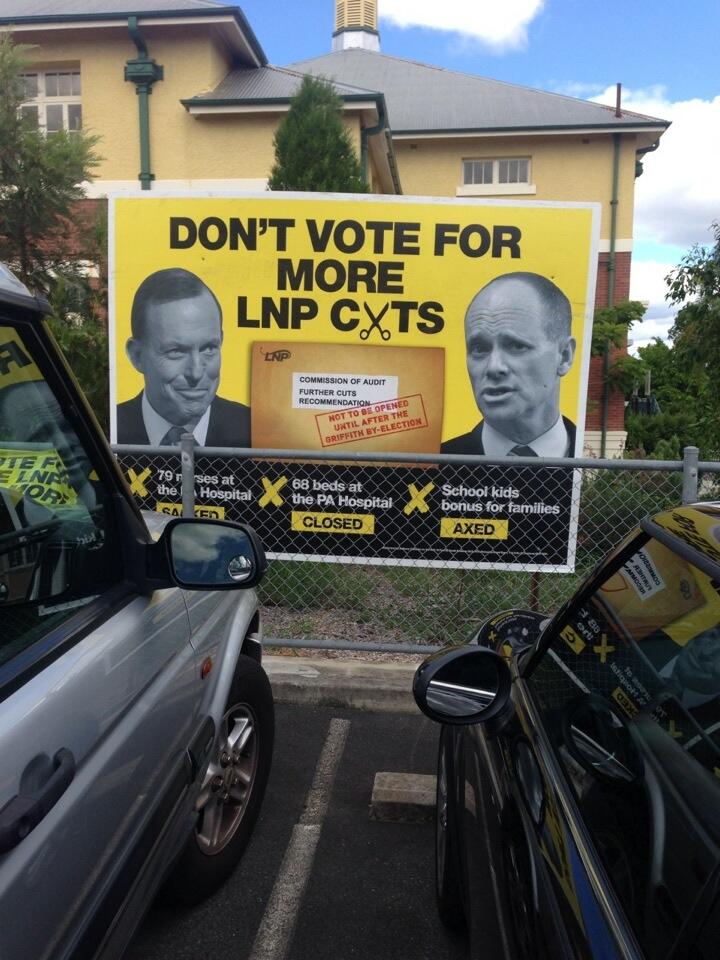 hardly lend an aura of credibility, or decency, or even maturity, to Labor's self-obsessed narratives.
To be fair to Shorten, the by-election occurred in an atmosphere of growing public acceptance for a crackdown on the union movement and support for the Abbott government's plans to call a royal commission into union corruption: a reality hardly conducive to fostering Labor's fortunes.
Yet as we discussed during the week, Shorten and the too-smart-by-half formula he and others in the Labor movement appear to have settled on in response to these matters — to leave them to the Police, with the implicit assumption that under-resourced Police forces will by necessity leave most of what ought to be investigated untouched — allowed conservatives to grasp the ascendancy on the issue.
And if there is a single moment during the Griffith campaign that could have made or broken Labor's chances, it was the speech to the National Press Club during the week by AWU boss Paul Howes in which he sounded like a leader — describing criminal elements in the union movement as "scum" and "traitors" and suggesting every avenue to root them out should be pursued vigorously — that made Shorten, by contrast, look like the pretender as a "leader" that he really is.
Indeed, some in the ALP — whilst incensed at the embarrassment Howes has caused — are known to have muttered darkly in the days since that the speech was one that should have been made by Shorten. It's a telling point.
Abbott and his troupe can move on from Griffith knowing they have lost little, if any, skin with the broader electorate; reputable opinion polling is very good, but no substitute for an actual snapshot of 90,000 voters — and that is what Griffith has provided.
If anything, the Prime Minister should have a renewed spring in his step come Monday morning; if Labor couldn't score a landslide win in this electorate and at this time, then Labor's position overall now is no better than it was in September. In fact, it may have actually given up ground.
For Shorten, a total rethink should be at least considered. At the very minimum, this result suggests that voters are fed up with Labor propaganda and no longer prepared to swallow its assertions that the Liberal Party is evil in our midst, whilst the ALP wears a golden halo.
Its lies and misinformation should be exchanged for meaningful policy debates and work on an overhauled platform: something that will actually require hard work and may cause the party grief in the short term.
But the ALP has been put on notice: it is Labor, not the Coalition, whose support in relative terms from the last election appears distinctly probationary.
Labor has won the battle for Griffith, but it is impossible not to see the Coalition as the victor to date in the war: retaining the support it secured in September, and even increasing it.
A slender win to Labor in Griffith is one thing, and will be a relief of sorts to those in the ALP bunker.
A failure to win the Queensland state by-election in Redcliffe in two weeks' time, however, will be an unmitigated disaster. Should that occur, today's hollow Labor "triumph" will quickly become a signpost to disaster rather than the harbinger of any false dawn.
*1958, 1966, 1975, 1977, 1996 and 2013. The party also won Griffith in 1949 (on taking government for the first time) on a national two-party vote of 51%.