NEWS Victorian Premier Daniel Andrews "offered" to house, educate, medicate and throw welfare at 267 asylum seekers cleared by the High Court to return to Nauru is an outrage; Australia's border regime has been repeatedly endorsed by voters, and the consequences of changing it can be seen with a quick glance at Europe. Andrews should concentrate on running Victoria, a task at which he is proving spectacularly, but unsurprisingly, inept.
No doubt the Chardonnay drunks and the finger shakers and the bleeding heart bullshit artists of the Australian Left are quietly congratulating themselves tonight, but the other 95% of the population should be alarmed — and outraged.
And if ever an ostensibly innocuous gesture represented the thin edge of the wedge, this is it.
The news that Victorian Premier Daniel Andrews has written to Prime Minister Malcolm Turnbull with an "offer" to house, educate, medicate and throw welfare money at 267 asylum seekers facing return to Nauru — in the wake of this week's High Court ruling that mandatory detention of asylum seekers on that island is constitutional — must be condemned in the strongest possible terms, and not just for the obvious reasons upon which those compassion babblers from the Left will seek to justify it.
You'd think the ALP and the Communist Party Greens would have learned their lesson by now, but apparently not.
When Labor managed to sweep away its detested, loathed, hated Howard government in late 2007 — described by some in its ranks as "evil" — one of the first things the Rudd government did, with the explicit support of the Greens, was to abolish the highly successful "Pacific Solution:" that suite of policies that brought the arrival of asylum seekers by sea to a total halt.
The next thing anyone knew, 50,000 asylum seekers were arriving every year — in addition to well over a thousand who didn't survive the journey, drowning en route at sea — with the costs of (you guessed it) housing, educating, medicating and throwing welfare money at them running to well in excess of $10bn per year.
The longer it went on, the faster the boat arrivals came; the more it cost, the more people turned up as word spread back to the Middle East that Australia was a soft touch that would let anyone claiming to be a refugee into the country: so long as they made it through the trip.
To Labor and the Greens, however, this was the "compassionate" and "humane" way to deal with them.
By the time anyone at the Labor Party noticed there was a problem, this running sore had already filled millions of acres of opinion and comment in those organs of record so decried by the Left as illegitimate; every one else in Australia knew — and so did the good burghers at the Murdoch press — that whilst this country isn't filled with cruel, hard-hearted arseholes, the capacity to cope with this level of unannounced immigration (many of whom were not "refugees" at all, but economic migrants seeking to jump the queue) had already far transcended Australia's ability to do so.
And when the Labor government, by then led by Julia Gillard, tried to do something about it, there was an East Timor solution, a Malaysian solution, and a Regional Processing Centre: none of which ever happened, of course, and the suspicion the promises were nothing more than a macho PR exercise was borne out by the fact the East Timorese government made it known that the first they'd heard of any solution involving their country was when it was announced in the media.
Tony Abbott and his three-word-slogan opposition was looking like it was onto a winner with a pledge to Stop the Boats; naturally, when Rudd was reinstated to try to undo some of the looming electoral carnage his party faced for its misadventures in office, he solemnly declared, po-faced, that with Labor in office, no asylum seeker arriving by boat would ever be permitted to settle in Australia. Tony Abbott, by contrast, would start a war with Indonesia over the issue, he said.
The rest is history: the Liberal Party won the election; the Abbott government stopped the boats; no war with Indonesia was either in prospect nor occurred; but Labor and the Greens used their numbers in the Senate to frustrate and disrupt the reinstatement of the Pacific Solution — voting, for example, to disallow the reintroduction of temporary protection visas — and whilst the boats have stopped completely, the ALP and Greens still have not a shred of credibility on the issue.
Yes, you'd think the Left might have learned by now: Australian people will not tolerate an endless flow of largely economic migrants through open borders.
Not coincidentally, whilst these parties were in power, hundreds of children were placed into detention in Nauru: and as cynical as it might sound, it is tempting to regard this aspect of Labor's mismanagement of the asylum problem as an investment in the day it was eventually booted out of government, for the ALP — and the wider Left, notably the Human Rights Commissioner, the contemptible Gillian Triggs — have played politics with children in detention ever since, seeking to hold the Coalition to account for a problem entirely of Labor's and the Greens' making.
This latest frolic on Andrews' part — using the desperation of others for political ends — comes as the High Court struck down a bid this week to have mandatory detention on Nauru declared unconstitutional by a 6-1 majority; knowing no shame, part of the pretext for Andrews' approach to the Prime Minister was that 37 babies born in Australia were among the 267 facing deportation to Nauru: claiming residency by right of birth has long been a tactical play of both asylum seekers and their advocates in the Australian establishment who think they know better than the rest of the country, and merely underlines exactly why it is necessary to stop it in its tracks.
According to Andrews' office, the Victorian Premier's letter was posted to Turnbull yesterday prior to its appearance in social media earlier today, and Turnbull's people say they are yet to sight it; but given postal services between Melbourne and Canberra occur overnight at the minimum (and in this case, over a weekend) such a claim on Andrews' part is fatuous: even if a paper copy was dispatched yesterday, it's fairly clear the intention was to kick some sort of own goal on Twitter — and to force the PM to play catch-up on the hop and with no advance warning whatsoever.
The tactics are appalling. The claim that this stunt shows how "compassionate" Andrews and his government are is sickening.
Andrews' letter was as follows: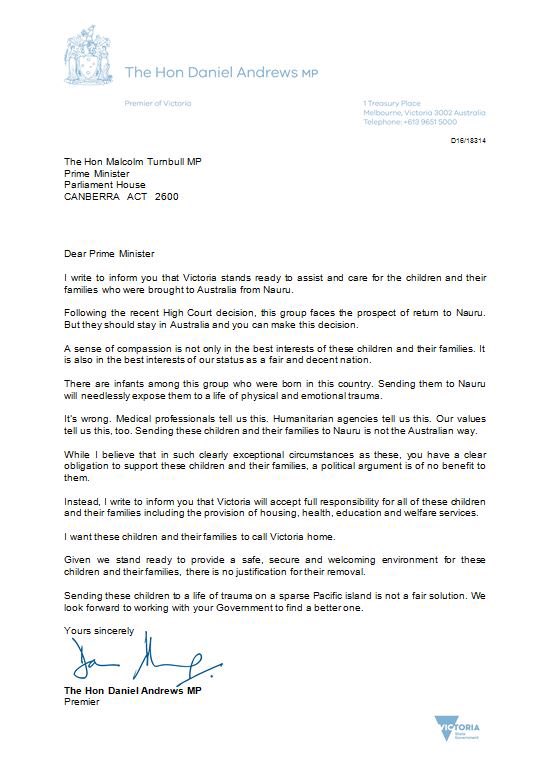 Embarrassingly, this document looks like campaign paraphernalia: it is jingoistic, pompous, and entirely innocent of any grounding in either common sense of the wishes of the Australian public.
"Victoria stands ready…" well, I don't, and neither do a considerable number of intelligent, decent people in Melbourne I have been discussing this with today. Most are horrified, for far from being some magnanimous gesture of generosity, this is exactly the kind of thing tough immigration laws were repeatedly introduced to stamp out: and abandoned once already by a Labor-Greens cabal to disastrous effect, this silly stunt could well have the same practical outcome now — with consequences that would be nothing short of cataclysmic.
Triggs, for the non-existent value she represents to this country in exchange for an obscene monthly pay cheque, opined that children are scared at the idea of returning to Nauru — and therefore should remain in Australia — to which I say, what about their parents? It is not this country's fault their parents put them in a position by which mandatory detention on Nauru is their fate for the foreseeable future. But the Left (and Triggs embodies it in all its repugnant malignancy) have never bothered themselves with the concept of personal responsibility.
If Victoria is permitted to get away with this — because Andrews "wants these children and families to call Victoria home," and because sending them back to "a life of trauma" on Nauru "is not a fair solution" — then as sure as night follows day, Queensland will follow suit; once that happens, the ACT will try it on; and before you know it, and South Australia gets in on the act, every Labor-controlled state and territory jurisdiction will be running an illicit parallel immigration racket to undercut and sabotage the legal (and constitutional) one in place at the federal level.
It should be noted, of course, that immigration is a federal government responsibility: but if you are Andrews, the ALP and the Left generally, that doesn't matter.
The end result of Andrews getting his way on this will be, with neither exaggeration nor hyperbole, to send the signal to people smugglers that Australia is once again open for business; and when that occurs, the flood of boats will resume: the only difference will be that instead of making for the Western Australian coast, the intended points of landfall will be in Victoria, and Far North Queensland, and along the Limestone Coast in SA.
And should that occur, a cursory glance in the direction of Europe is enough to send a shudder down the spines of all right-thinking folk: the 1.1 million asylum seekers who arrived in Germany last year are more or less tearing the place apart; another 50,000 arrived in January alone, and as one scribe today noted, 50,000 in a month actually represents a big slowdown.
Whether you like it or not, the capacity of Western countries to absorb literally endless numbers of people who just don't want to live in their own countries any more is actually quite limited; it is a question of resources, affordability, and the capacity to integrate new arrivals whilst preserving social structures and the cohesion of existing communities.
Whether you like it or not, and whether it is right or not, there is ample and growing evidence that when it comes to large numbers of Muslim asylum seekers — because that's who we're talking about, let's be honest — this simply isn't possible, and with no disrespect to the ones who simply want to live in peace, there are too many in their ranks who want to blow the place up and terrorise the women who live here to justify taking the risk on any of them.
And with the article from the Fairfax press I've linked today confirming that each asylum seeker would require at least $10,000 per annum in state support (a figure that seems suspiciously low, frankly) for the 267 in question here, the few million it would cost to have them mightn't seem like much at first glance.
But where there are some, there are more — many, many more — and just as Labor swore in 2008 that its abolition of the Pacific Solution would not lead to a flood of asylum seekers (which it did, directly) it will make similarly empty pledges now.
There are three main points to make in closing.
One, the High Court — the highest in the land since Labor abolished the right of appeal to the Privy Council — has ruled that the intended handling of these people is constitutional: but just like personal responsibility or public opinion generally, the law is only of interest to the Left when it says what the Left wants it to say; for the Left, in the end, thinks it knows better than everyone. It doesn't.
Two, just who in hell Daniel Andrews thinks he is — seeking to usurp immigration laws that are the domain of the Commonwealth — is anyone's guess, but in trying to interfere in the fate of these 267 asylum seekers he is playing with a particularly dangerous barrel of dynamite. Asylum seekers, in the hundreds of thousands if not millions, will recommence their bombardment of Australia's shores in a heartbeat if they think they will be received here; I, and dozens of other conservative commentators, said at the time of the 2013 election that if the flow of asylum seekers was not halted, millions more waited ready to test their luck. That contention has been proven in recent months in Europe. Germany and Sweden in particular are finding they have imported gang violence, the rape and other sexual assault of their country's women, and a lawlessness that shows neither respect nor heed for Western values. We do not need this here. But this is the danger Andrews is flirting with as he grubbily tries to score a point against the federal Coalition on behalf of the Chardonnay drunks and finger shakers of the Left who urge him on.
And three, little over a year since winning office in Victoria, Andrews has pissed more than a billion dollars up against a post — cancelling the East-West Link he said the contract to build wasn't worth the paper it was printed on, and that tearing it up would expose the state to no compensation — and has turned a $2bn budget surplus into a $250 million budget deficit in the space of a single financial year; beyond these dubious "achievements" there is nothing of any value to show for 14 months of Labor government in the Garden State.
Maybe Andrews should concentrate on his own job — running the State of Victoria — and leave federal matters to the federal government.
After all, the policies in place on immigration and asylum seekers were endorsed at the ballot box in 2001, 2004 and most recently in 2013; and after all, for a man who campaigned on putting an end to a "circus" he claimed had played for four years on Spring Street, the nicest thing you could say about Daniel Andrews is that he's a clown — and he has proven it today with this stunt.